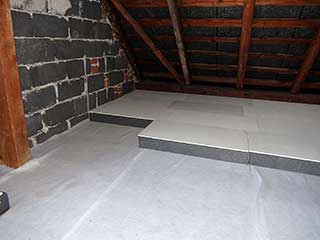 What Are Signs Your Space Needs Repairs?
You may not know what to be aware of when it comes to your crawl space needing repairs, but there are a few indications to look out for! If you notice your allergies or breathing troubles are starting to worsen even indoors, or a foul odor emanating from the area, both could be a signal that mold is taking over. You may be able to use a flashlight to look into the space itself and see mold discoloration, warped wood, or even standing water. In any of these cases, it's time to get it taken care of!
Why Does It Matter?
It's understandable to wonder how pressing it is when your house has other troubles to deal with, but a damaged crawl space can cause a lot of issues! Mold that can grow from a damaged vapor barrier or due to water leaking will eat away at the structure of the area, as well as destroy insulation so your home is less energy efficient. Animals may have also caused harm to the wood or drawn in insects that will burrow in and may continue up into your household.
We'll Fix It For You!
Whatever the problem may be, our professionals have handled it before and this won't be an exception! We'll come out and get to work on whatever the needs of your crawl space may be. If there is standing water, we'll get it drained out and ensure that the structure is repaired and safely supported. Moisture can get in through the vents and door if they aren't airtight, so we'll install new ones if that's the case. Should the vapor barrier be destroyed, our technicians will get a fresh one put in as well.
There are other services as well to further protect your crawl space, such as installing a dehumidifier to more solidly keep moisture out, and more.
Why Wait Any Longer?
Call Crawl Space Cleaning San Francisco now, and we'll get your crawl space like new again!
We do so much more!
Crawl Space Post Replacement
Insulation Removal & Installation
Radient Barrier Installation