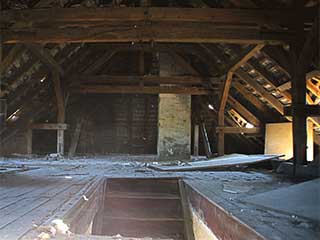 Cleaning the attic when the situation requires us to do so is very important. It is not something to belittle or delay, as it directly affects our home and our quality of life in it. A lot of homeowners prefer to fix things around the house by themselves, but we assure you, this is a task you better not face by yourself, because it might work against you later on. Failing to remove every last trace of wetness, mold or other bacteria might lead to health issues in the future, so we recommend leaving this task for professionals.
What Can Possibly Go Wrong?
You might think and wonder what can possibly go wrong if you try to do it by yourself. We get it, it might seem like a challenge, but it is not one you want to undertake. Your attic is exposed to different infections that can develop due to several reasons. It might be due to rain and wetness, poorly installed or worn-out insulation, the accumulation of dust or mold and so forth. Should the attic indeed be infected, you shouldn't breathe the air in it and most certainly shouldn't treat it. Those who underwent the proper training for it, such as our team of professionals, should handle it.
Additionally, these types of infections usually affect corners and hard to reach places, and professionals are not only trained to deal with them but they also have the equipment to reach them easily. We will treat these areas with effective detergents and cleaning materials, thus completely eliminating and greatly delaying any infection's return.
Professional Attic Cleaning
Choosing professional services will allow you the peace of mind that comes from knowing your home is clean, safe and healthy for your family. Those nasty infections might cause breathing issues and even affect the respiratory system, especially among babies and the elderly, who are more susceptible to these types of risks. With the proper service you won't have to worry about it anymore, though. In addition, we offer comprehensive insulation services that will allow you to maintain your home clean and healthy. Call us now and we will be happy to assist.
We also offer the following services:
Commercial attic cleaning
Crawl Space Encapsulation
Crawl Space Waterproofing