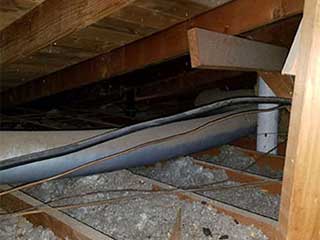 What Are Signs It Needs Cleaning?
One thing to keep an eye out for is a rising energy bill. If you notice this but aren't sure why it's happening, it may have to do with damaged insulation in your crawl space. Other indications could be looking with a flashlight to see if you notice animal droppings, a lot of dust, or mold. You may also smell a foul odor, indicating either animal waste or mildew. If you're aware of a water leak that may have affected the area, or that animals have been poking around, that would certainly signal that it's time for a cleaning!
Why Should You Worry About It?
There are all sorts of important components of your home located in the crawl space, from insulation to pipes and cables. They're all at risk if the space is left to be dirty, but more importantly, it may be putting you and your family in an unhealthy situation as well!
Water that's gotten into the crawl space can not only damage wood and ruin insulation, but it will cause mold to grow and spread too. This will further weaken and eat away at wood and pipes, and the spores can pollute the air and be a health hazard.
Another issue is animal waste. Thanks to animals making themselves at home in your crawl space, diseases can easily infect your home from the air rising in the summer, and they harm the insulation and vapor barrier as well in the process.
Let Us Give You A Hand!
We'll come out and get to work as soon as possible to get your crawl space safely cleared out of any or all of these issues. Our experts can safely remove contaminates, dust and debris to ensure that none of them can further pollute your home's air. We can also remove and replace any insulation that's been harmed.
Why Wait Any Longer?
Contact Crawl Space Cleaning San Francisco now and let us get your crawl space like new again!
In addition, count on us for:
Residential attic cleaning
Cleaning & Decontamination
Crawl Space Ventilation Improvements