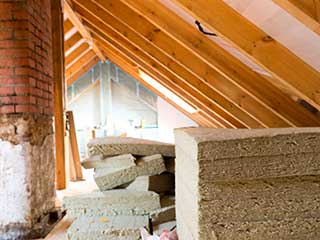 Why Does Attic Insulation Matter?
While your attic's insulation may seem relatively low on the list of things you need to worry about concerning your home, you may want to consider it more thoroughly. It's essential when it comes to the amount of energy you have to pay for because if it's inefficient, your heat and air conditioning will have to run longer. In theory it should keep your home sealed and not allow any air, especially heat, to escape. However, if it's deteriorated over the years, you'll see your energy bill begin to rise.
What Causes Deterioration?
There are a number of factors that can affect your attic's insulation, and consequentially there are multiple services we provide to help! If there's been fire or water damage, both may have decreased its functionality. Just the smoke from fire can cause damage. Water can cause mold to grow and this can spread through your home if not taken care of.
Another possibility is that the original insulation has aged. Age will take its toll over time, and decrease the effectiveness in the process.
If you've had unwelcome guests, not only will your insulation likely need to be replaced thanks to them using it to nest, but also there's more to worry about. The waste from rats carries disease, and this can make its way into your home easily if you bring down something contaminated, or even just tread through it and go back downstairs.
How Can We Help?
Whatever the case, our experts will be able to take out what's already there, and put in fresh material properly fitted for your attic that will function far better. Our professionals can also clean and decontaminate the entire attic to ensure any bacteria is gone, and that your family stays safe.
Contact Us Now!
Don't let your energy costs rise, or let your family's health be at risk! Call Crawl Space Cleaning San Francisco today, and allow us to take care of it for you.
Need more? We also provide:
Yard Drainage (French Drains)
Mold Removal & Prevention
Crawl Space Cleaning & Repair
Crawl Space Rodent Removal